One of the biggest issues in speaking of technology trends is the natural impulse to apply a "one size fits all" approach.
People talk about technology the way they talk about the weather–it's something that affects everyone the same way. Raining? That's too bad about the ball game. Nice for your flower garden though.
Unfortunately, when it comes to technology, it doesn't affect everyone the same way. At the risk of losing 90% of my readers in one go, I'm going to dust off one of the great evil words in the technology industry–Enterprise. As I've said before, the word "Enterprise" in the phrase "Enterprise Software" has come to mean software that sucks. In fact, if you Google "Enterprise Software" (with the quotes) the number two link is "Why Enterprise Software Sucks".
So why dust off this word? I suppose I enjoy collecting antiques.
It's after all a perfectly good word, and can be repurposed as a pot holder or maybe a tea cozy. What I'd like to have is a word that signifies the following:
An organization that has grown in size to the point where the old tricks don't work anymore.
* Its organization has shattered into factions
* It's technology has separated into silos
* Its market has fragmented into niches
The big challenge is how does one maintain the advantages of size and scale but still retain agility?
I think it's possible:

So how does fragmentation affect the use of cloud?
Well in terms of complex demand, cloud principles are very exciting.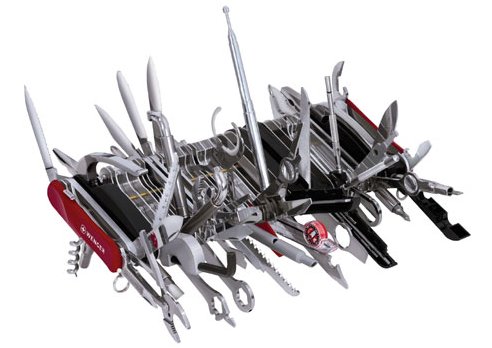 If your market is fragmented, you will be happy to offer a platform of reusable services that can be customized by channel partners or even by end users into thousands of possible use cases. Think iPhone App Store. So for complex demand, the cloud is a good thing.
The challenge for the Enterprise and cloud is the concept of "Complex Supply". Since both the technology in the Enterprise is already siloed, adding cloud just adds another silo. Legacy Mainframe apps, Web Application Servers, Enterprise Applications, you name it, Cloud just adds yet another technology silo to maintain, integrate, secure and govern. Since large organizations are fragmented into smaller organizations, this problem is compounded when one organization creates a dependency on cloud services without a systematic enabling architecture.
Size matters. People try to apply architectural patterns and software solutions as if they were one-size-fits all.